Our team offers excellent aluminum plate rolling services to help you make your project a success.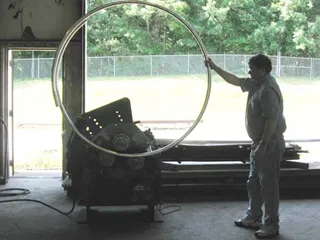 We at Fishel Steel Co. are passionate about metal fabrication, so much so that our team has been working in this industry for over 90 years. We are proud to be a family-owned business on its third generation in the business, and over the years, we have expanded our operation to offer a greater variety of services.
As our name suggests, we originally focused on steel fabrication, but today we have the right skills and equipment to work with iron and aluminum as well. In particular, we can provide high-quality aluminum plate rolling services for a variety of applications.
To give a few examples of what we can do with our aluminum plate rolling services, our team has worked on custom car and truck parts, machine parts, cabinets, and more. Simply tell us what you have in mind, and we'll figure out a way to make it happen. We keep production-ready aluminum and other metals in stock, so we can get started on your project as soon as possible.
In addition, because our 17,000-square-foot workshop contains such a great variety of tools and equipment, we can handle all your aluminum plate rolling and other needs. Whether you need us to cut, bend, form, or weld your aluminum plates, you can count on us to deliver the excellent results you deserve.
Our team is proud to serve the state of North Carolina, and we want to help you make your project a success. If you need aluminum plate rolling services, just give us a call to find out what we can do for you.
---
At Fishel Steel Co., we offer aluminum plate rolling services for customers in Winston-Salem, Greensboro, High Point, and the rest of North Carolina.