Over the past nine decades, we have invested heavily in industrial equipment and machinery to handle all your metal fabrication projects.
The biggest difference between a new metal fabrication company and one that has been around for nine decades like we have at Fishel Steel Co. is the amount of industrial equipment and machinery that they own. We have saws, drills, forklifts, cranes, and more, so we can accommodate far more custom projects than other companies in North Carolina.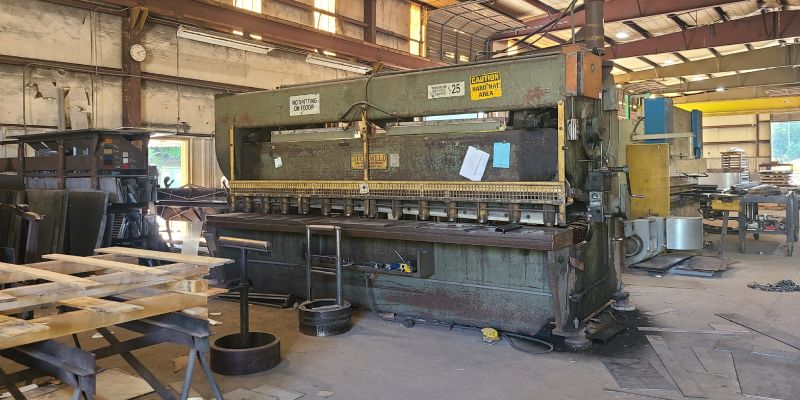 We not only have plenty of industrial equipment but have invested in machinery with the capacity to handle large projects. For example, we have two 5-ton overhead cranes, a 5-ton towmotor forklift, and other machinery and equipment with plenty of capacity. Our 17,000 square foot warehouse gives us plenty of room to operate so that complex metal fabrication projects are possible. Our large warehouse and fenced storage area also allow us to stock steel, stainless steel, aluminum, and iron, so we can get started on projects right away.
Investing in industrial equipment and machinery has also enabled us to fabricate many types of metal, including stainless steel, aluminum, and more. We have the necessary shears, press brakes, MIG and TIG welding equipment, punches, saws, drills, and angle iron roll machinery to handle all your metal fabrication needs. It is very rare that we can't help someone regardless of their industry or custom metal fabrication request.
Some of our equipment includes:
Two 5-Ton Overhead Cranes
One 5-Ton Towmotor Forklift
4-1/2 x 4-1/2 x 1/2 Round Angle Roll with up to 3″ Pipe Dies
Pacific Press Brake
1/2 x 10′ Cincinnati Shear
3/8 x 12′ Steelweld Shear
3/8″ x 12 ft. shear — 24″ gap for long stripping
6 ft. x 1/4″ Bertsch plate roll Initial pinch
8 ft. x 3/8″ Bertsch plate roll initial pinch
Angle iron roll
— Roundo R 2 — 2″ x 2″ x 5/16″ Angle capacity
— Roundo R 5 — 4″ x 4″ x 1/2″ Angle capacity and up to 3″ pipe (some size Table press — 200 tons)
American Radial drill — 5 ft. arm
Savage Nibbler — 3/8″ plate capacity
Carborundum abrasive cut-off saw — 4″ diameter capacity
Piranha P-90 Iron Worker — Capacity 1-1/16″ hole through 1″ plate, 6″ x • 6″ x 5/8″ angle shear, 4″ x 6″ x 3/8″ notcher
Pels Iron Worker— Capacity 1″ holes—A" x 4″ x 1/2″ shear—notching tool bar shear Piranha single end punch —120 tons Capacity: 1-1/2″ hole through 1″ plate
Heath Ultra-graph for special pattern shape flame cutting 2, 5-ton bridge crane—proper and prompt handling in-shop lift jobs
MIG, TIG, and general shop welding available
Special MIG gun for aluminum jobs (also stainless steel)
DoALL band saw — 12″ Capacity
Plasma — Cutting Capacity: 1/2″ stainless steel; 1/2″ aluminum
Pacific Press Brake – 400 Tons x 14 ' Bed
It takes time to build up the industrial equipment, machinery, and metal inventory that we have, which is why few other companies can do what we do. If only the best will do for your project, don't hesitate to reach out to us and find out for yourself why we are the most trusted metal fabrication company in the state.
---
At Fishel Steel Co., we offer industrial equipment for customers in Winston-Salem, Greensboro, High Point, and the rest of North Carolina.
Similar Services We Offer: